MASTERPLAN
Development & Key Features

Eton Properties Philippines, Inc. (EPPI) and Ayala Land, Inc. (ALI) , two of the country's leading property developers today, launched what they envision to be their greenest urban estate, Parklinks.
Located in Pasig and Quezon City, the 35-hectare mixed-use estate is thoughtfully master planned to maximize access to parks and open spaces, which would be a mere 5-minute walk for residents, office workers and the public from the mall, office and living spaces through a well-designed and managed walkway system.
A 110-meter long and 25-meter wide iconic bridge is designed to link Quezon City and Pasig over the Marikina river. This will create a new route that will help ease vehicular traffic in the northeast and east of Metro Manila. The bridge will have dedicated lanes for bikers and pedestrians, allowing a safe and convenient commute within and around the development.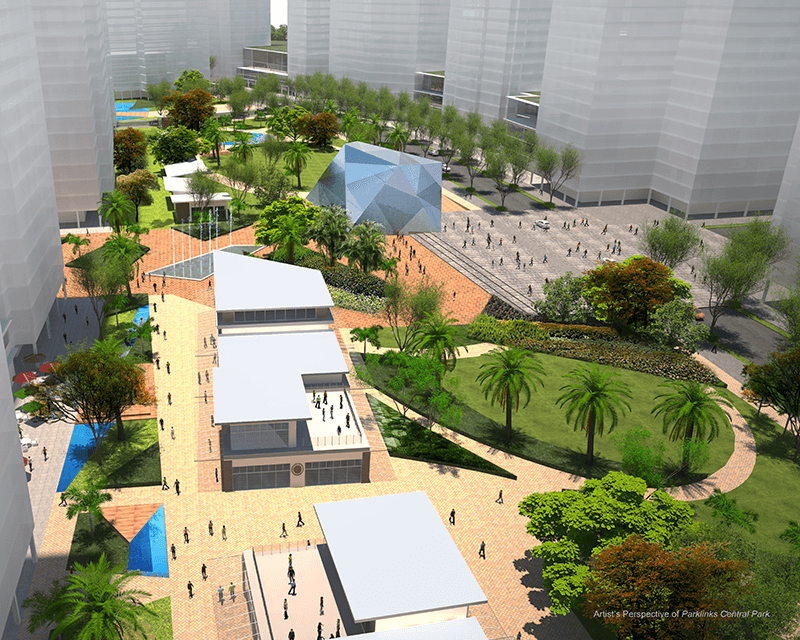 EPPI and ALI deem this development as their greenest urban development to date. The plan includes a 3-hectare central park located at the heart of the business district. The esplanade, river park terraces, running & bike trails and riparian gardens designed to accentuate the riverside are intended to highlight the natural topography of the land, and will encourage the community to engage and appreciate the river system surrounding the development.
Abundance of Green Spaces
Parklinks could have just been your typical development offering the usual components of residential, office and commercial areas, but the fresh concept behind this green urban estate challenges and even trumps the common idea of what comprises a thriving community. Parklinks offers a much-needed breathing room in a crowded urban center.
"With 50 percent of the 35 hectares devoted to open spaces, Parklinks will provide what is missing along the busy C-5 corridor—an abundance of open space," said ALI SVP and Strategic Landbank Management Group head Meean Dy.
Such a huge expanse of open spaces, now deemed a luxury in this highly dense concrete jungle, will afford future residents, office workers and locators a wealth of benefits, from a perceived better general health, a more active lifestyle, cleaner air and reduced stress levels, among others.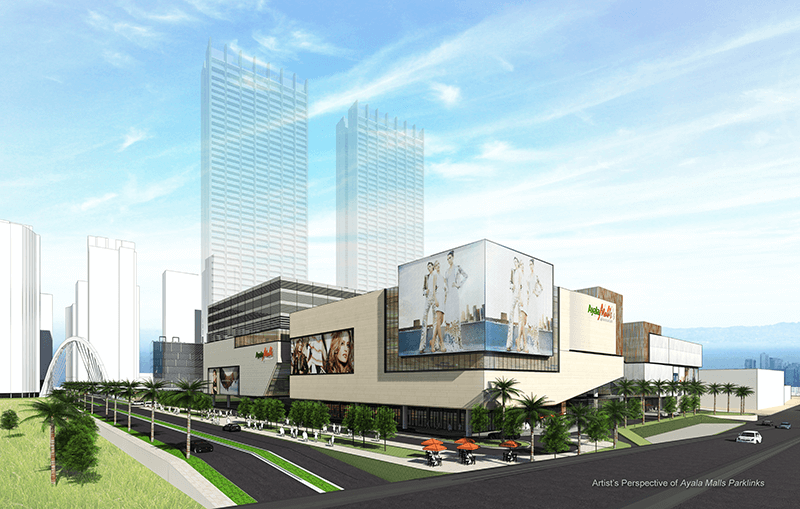 The new residential and business hub will be anchored by a 58,000 sqm GLA regional mall that will be situated along the estate's C5 frontage. The mall is set to perfectly balance nature with its retail, dining and entertainment offerings. On top of the mall is a 3,500 sqm sports complex that will house a basketball court, volleyball court, badminton courts, fitness gym and dance studio to support and inspire an active lifestyle.
The development will introduce a new standard for waterfront living with ALI's flagship residential brands. Set to introduce 5 residential towers, Ayala Land Premier is expected to be the first luxury residential development along the C5 corridor. Alveo will likewise introduce 5 residential towers during its initial phase.
Parklinks Location
Parklinks will be accessible via C5, Amang Rodriguez Avenue and Ortigas Avenue. Plans also include additional linkages to the estate's neighboring communities like Circulo Verde and Metropoli.