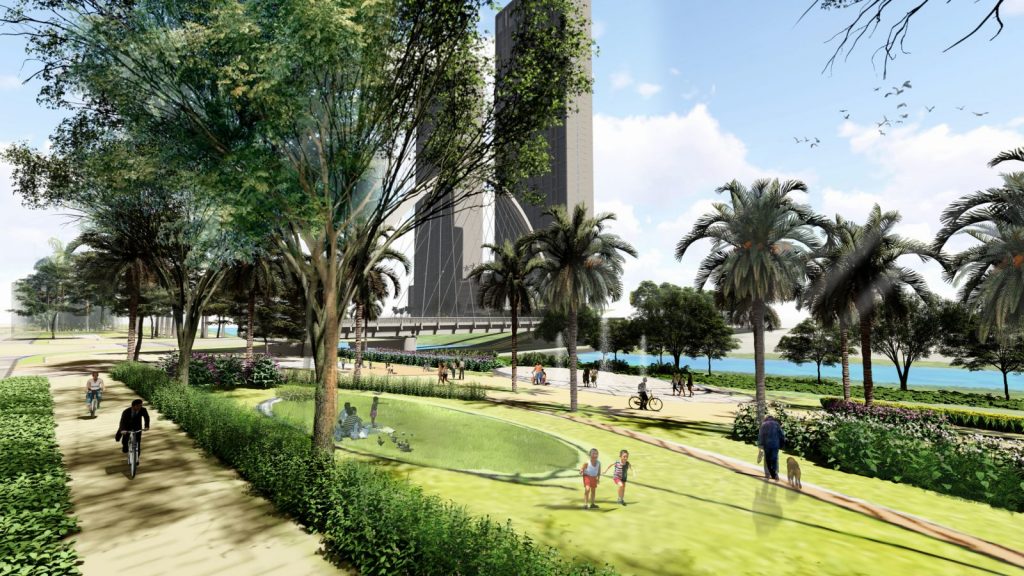 These days, to live in an estate where there is still a semblance of the natural environment means leaving the Metro and settling in subdivisions and master-planned communities in the countryside.
Eton Properties Philippines, Inc. (EPPI) and Ayala Land, Inc. (ALI), two of the country's leading property developers today, want to change all that. They want urbanites to experience the best green living possible without leaving the metropolis — which is why the two companies have joined forces to develop Parklinks, a 35-hectare sustainable estate accessible along the C5 corridor that traverses Pasig City and Quezon City.
An abundance of green open spaces
What sets Parklinks apart from other urban estates in Metro Manila is its emphasis on open spaces. Open spaces, which are located 250 meters from any point within the estate, are convergence areas where people can congregate, socialize, interact in various activities and build better relationships.
"With 50 percent of the 35 hectares devoted to open spaces, Parklinks will provide what is missing along the busy C5 corridor — an abundance of open space," ALI SVP and strategic landbank management group head Mean Dy says.
At the heart of Parklinks estate will be a three-hectare central park where its residents can congregate and enjoy a variety of activities under the shade of large trees and surrounded by carefully landscaped gardens.
Open spaces also surround the mixed-use estate including a series of parks, an esplanade, a river terrace, running and biking trails, and riparian gardens designed to highlight the natural topography of the land.
Creating new connections
Since the Marikina River runs across Parklinks and divides it between Quezon City and Pasig, it will be connected by a 110-meter long, 25-meter-wide bridge that features an iconic design. This will create a new route that will help ease vehicular traffic in the northeast and east of Metro Manila. In the future, additional bridges will link the estate to neighboring communities like Circulo Verde and Metropoli.
As such, Parklinks is only a few minutes' drive from existing residential developments and educational institutions such as UP, Ateneo, UA&P and Poveda.
Given this location, residents who want to work and enjoy leisure activities within Parklinks can easily reach it without having to endure hours of heavy traffic. For people keen on living within the estate, its location enables connectivity and interaction with other key business districts, lifestyle destinations and educational institutions in Metro Manila.
The largest mixed-use development along C5
Parklinks is a 50-50 joint venture development between LT Group, Inc., the parent company of EPPI and ALI . It leverages on each stakeholder's strengths and experience in developing various estates in the country to turn Parklinks into a successful green urban estate.
ALI is primarily known for developing well-established estates such as the Makati Central Business District, Ayala Alabang, Bonifacio Global City, and Nuvali. Meanwhile, EPPI's portfolio includes the development estates such as Eton Centris in Quezon City and Eton City in Santa Rosa City, Laguna.
Being that it is the largest mixed-used development along the C5 corridor and the largest urban green estate in Metro Manila, EPPI and ALI have allocated P53 billion in the next 10 years for Parklink's initial development. The scale of the development enables it to offer a wide variety of properties for residential, commercial and leisure use while keeping the community breathable through open space and ease of mobility.
First and foremost in these developments is a regional mall along the estate's C5 frontage. It will have a 52,000-square-meter gross leasable area where retail, dining, and entertainment offerings will be perfectly balanced with its natural environment.
The top of the mall will have an office development and a 3,500-square-meter sports complex that features a basketball court, volleyball court, badminton courts and fitness gym to support and inspire Parklinks residents to have an active lifestyle.
Living in Parklinks will be a whole new experience — nothing like you've ever seen elsewhere in the Metro. Its residential development will introduce a new standard for waterfront living with ALI's flagship residential brands — Ayala Land Premier, Alveo and Avida.
Ayala Land Premier will be launching its first luxury residential development along the C5 corridor this quarter. Likewise, Alveo is set to begin construction of upscale residential towers that will be launched next year. Avida also plans to build a residential complex catering to the middle-income market. These developments will enable Parklinks to offer a wide variety of quality residential offerings set within a well-preserved natural environment.
"Parklinks, an exemplary urban design expression, is a living testament to Eton LT Group and ALI's shared vision and commitment in providing sustainable excellent communities in urban centers to its valuable customers," said EPPI COO Jess Lucas.
With the development of Parklinks, Metro Manila's largest green urban estate, you don't have to leave the city anymore to be one with nature — you can already enjoy life surrounded by nature's splendor in the middle of the metropolis.