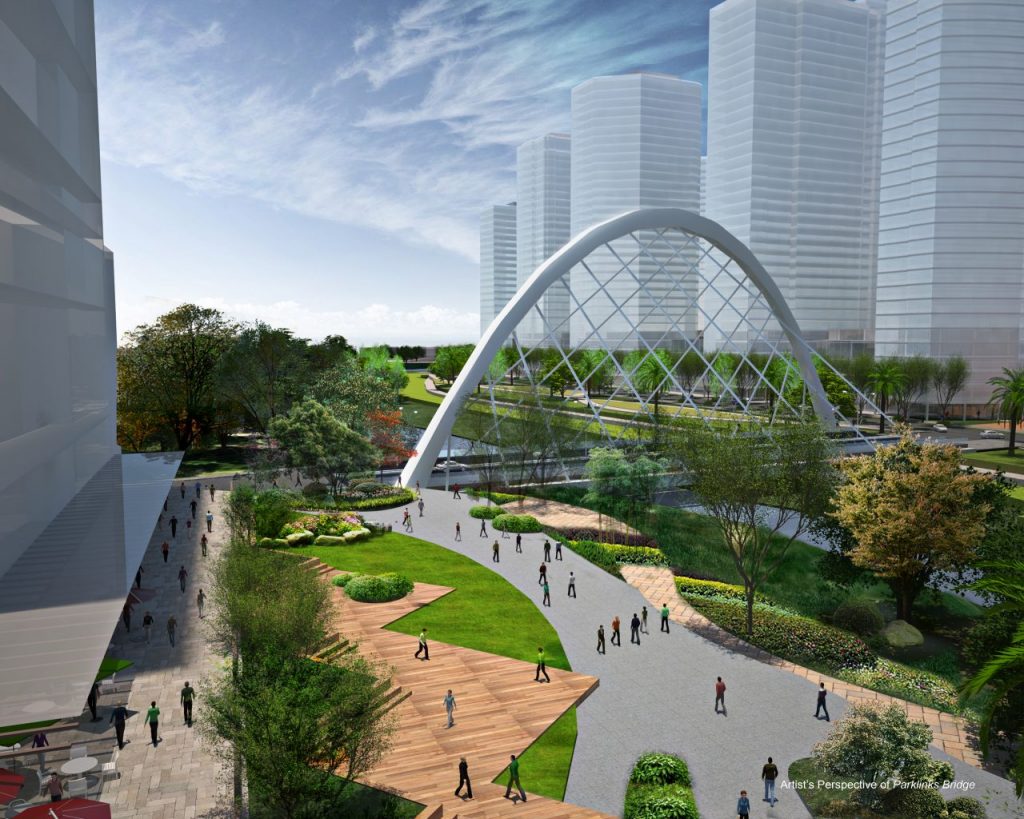 Two of the country's leading property developers are breathing new life into a former steel mill that will soon be home to the metro's greenest urban estate.
Rising on a 35-ha complex along the busy thoroughfare of C-5 will be the P53-billion Parklinks, a master planned mixed use estate developed by Eton Properties Philippines Inc. (EPPI) and Ayala Land Inc. (ALI) and through its joint venture Eton ALI Property Development Corp.
Abundance of green spaces
Parklinks could have just been your typical development offering the usual components of residential, office and commercial areas, but the fresh concept behind this green urban estate challenges and even trumps the common idea of what comprises a thriving community. Parklinks offers a much-needed breathing room in a crowded urban center.
"With 50 percent of the 35 hectares devoted to open spaces, Parklinks will provide what is missing along the busy C-5 corridor—an abundance of open space," said ALI SVP and Strategic Landbank Management Group head Meean Dy.
Such a huge expanse of open spaces, now deemed a luxury in this highly dense concrete jungle, will afford future residents, office workers and locators a wealth of benefits, from a perceived better general health, a more active lifestyle, cleaner air and reduced stress levels, among others.
There is thus no question why Parklinks is being touted to become EPPI and ALI's greenest urban development to date, as half of this new estate will be dedicated to well-designed and maintained lush open spaces, meant to encourage social interaction and promote a more holistic, well-balanced lifestyle.
Based on the vision of its proponents, Parklinks is targeted to have all parks and open spaces to be a mere five-minute walk for residents, office workers and the public through a well-designed and managed walkway system within the estate. Specifically, all open spaces are targeted to be 250 meters from any point within the estate.
"Parklinks, an exemplary urban design expression, is a living testament to Eton LT Group and ALI's shared vision and commitment in providing sustainable excellent communities in urban centers to its valuable customers," said EPPI COO Jess Lucas.
At the heart of Parklinks' business district, one will find a 3-hectare central park where one can easily relax and take a breather, while the esplanade, river terrace, running and bike trails and riparian gardens are intended to highlight the natural topography of the land. These features are designed to accentuate the riverside and to encourage the community to engage and appreciate the river system surrounding the development.
Open spaces, which are five minutes away from any point within Parklinks, are highly accessible via a well-designed and managed walkway system. Artist's perspective by WATG
Strategic location
Parklinks offers a highly strategic location, still considered one of the main draws for this development. Spanning across parts of Quezon City and Pasig, Parklinks will be the biggest mixed-use development along C-5 at 35 ha, which will be accessible via that same major thoroughfare, as well as Amang Rodriguez Avenue that also links to Ortigas Avenue.
Surrounding this development are top schools and universities such as Ateneo de Manila University, University of the Philippines, Poveda and University of Asia and the Pacific. One can also easily find hospitals, churches and other key establishments surrounding Parklinks.
Accessibility and mobility will be a breeze among future residents and locators. The Parklinks estate is raising the bar in connectivity as there are plans to include additional linkages to the estate's neighboring communities such as Circulo Verde and Metropoli.
Parklinks will also soon be home to a signature bridge, a unique estate feature designed to connect Quezon City and Pasig City parcels over the Marikina River. This 110-meter long and 25-meter wide connection will create a new route that is expected to help ease the vehicular traffic in the northeast and east of Metro Manila. Targeted for completion by 2020, the bridge will also have dedicated lanes for bikers and pedestrians, thus allowing for a safe and convenient commute within and around the development.
Balanced lifestyle in a breathable environment
A lifestyle mall offering 52,000 sqm in gross leasable space will serve as the anchor of the residential and business hub starting 2022. Located at the estate's C-5 frontage, the mall is envisioned to perfectly balance nature with its wide array of retail, dining and entertainment options that are expected to provide a new, family-oriented lifestyle experience.
On top of the mall meanwhile will be offices as well as a 3,500-sqm sports complex that will house a basketball court, a volleyball court, badminton courts and a fitness gym that are meant to support and inspire a more active lifestyle.
Ayala Land Premier is expected to launch its first luxury residential development along the C-5 corridor this year while the Alveo and Avida launches are slated to launch in 2019.
Vision to reality
There is much to look forward to as Eton and ALI bring to life the 35-ha Parklinks, envisioned to be their greenest urban development, where they will be able to create and expand communities that allow convenience, productivity, growth and a healthy way of life.
The estate, featuring a wide array of residential developments, a lifestyle mall and office spaces engulfed by a network of parks—offers a new concept in urban living. Various linkages to the new estate, including the iconic Parklinks bridge, will strengthen connectivity across cities. Thus, this estate will bring unparalleled value for both property seekers who will want to reside here and the investors looking for a worthy addition to boost their financial portfolio.
And over the next 10 years, the Eton and ALI partnership will bring this vision to life for the benefit of its future residents and prospective investors